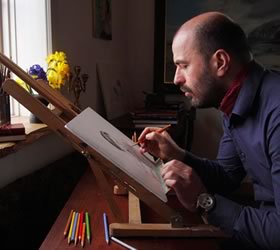 GENTIAN was born in Shkoder in 1972. He grew up surrounded by the paintings of his uncle, one of the most celebrated artists in Albania, the great master Ismail Lulani. The paintings, the sketches, the studies, and all the books around him, encouraged Gentian to start drawing and painting since he was only 10 years old.
Later, he enrolled in the secondary School of Arts (Prenke Jakova) in his home town Shkoder and continued his studies in the Academies of Fine Arts in Tirana and Rome. The ten years he spent in Rome after his studies, were thoroughly dedicated to the art of painting and to the intensive study of masterpieces from the Renaissance old masters. Beside his school studies Gentian took private lessons with old masters in Rome and Florence.
His move to Ireland in 2000, was followed by an honours degree in Art and Art History at the Crawford Art and Design College, and the opening of his studio and gallery on the grounds of Ballymaloe House in County Cork.
His work has been exhibited successfully in solo and collective exhibitions. In 2006, he was accepted for the BP Awards by the National Portrait Gallery in London, for his portrait of 'British Ambassador'. This painting was also displayed in the Royal Academy of England, London and National Portrait Gallery, Scotland.In 2011 he opened a solo exhibition at the parliament of Austria, Vienna.
Some Sample of Gentians Work