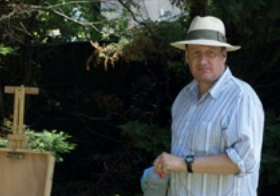 At its best the Irish landscape is bright and strong, flickering with shadows and a half thought expectancy of its undoing that only enhances the moment. For the plein-air landscape painter the clarity of light is only matched by the struggle to catch each moment on canvas. Most landscape painters solve the problem of immediacy by working hard and fast, placing marks down in two's and three's that trip over themselves in random succession to in some way describe that living moment. As a landscape painter I work entirely plein-air, 'in the open air'. This approach gives a chance to watch the direction of light change, the shadows move and sculpt the landscape. I extend the practice of pleinair with many hours and sessions painting on one canvas. This gives the chance to understand the subtlety of each moment, the colour and the moment itself as it is flanked by different points of time or other paintings in the series. With many hours in a painting I don't look for excessive detail in paint application but try to keep the picture surface open using larger gestural mark making. The point in the extended application is to capture a breadth and depth as well as the transience. It was with some sense of adventure that we boarded the flight at Dulles for the Cobh residency. Our recent move from Jerome, Arizona to Washington DC had left our lives scattered over a year's journey and 3000 miles. A two month residency was another move that offered a chance to complete a series of paintings, and a return to Europe that was much anticipated.
Cobh greeted us with a certain introspection, the
weather had closed in, not even a blurred hint of
light from the light house across Cork Harbour. I
had anticipated the weather. Working many years
previously in Connemara had given me a love for the
Irish landscape but a healthy respect for the climate.
But as an extended plein-air painter I was looking
for a miracle! I started on a portrait, in an extended
series of portraits of my wife, also with a backup plan
of still life taken from found objects on the beach.
Then the sun began to shine, first in stops and starts,
casting annoying and frequent shadows from the
sky light across my composition. I ventured out into
the convent garden behind the house to start on a
tentative landscape, this would certainly drive the sun
away and clear up those irksome shadows from my
portrait? The sun continued to shine, and shine. After
six weeks of clear weather I completed the Cobh
series of landscape with no compromise on time. So
was it a certain clemency or mercy? Whatever the
reason I am grateful to Ireland for her patience.
Clive Pates has travelled and worked extensively as
a landscape painter, completing many residencies
including the 'Robert Fleming Residency', Hospitalfield
House, Arbroath, Scotland; the 'Juliet Gomperts'
Tuscany Residency, Casolé d'Elsa, Siena, Italy; the
Roundstone Open Arts Residency, Connemara,
County Galway, Ireland; and several residencies at
Rancho Linda Vista, Oracle, Arizona. He has received
many awards including three Elizabeth Greenshields
Foundation Grants, a Warhol Foundation Grant,
a Warhol Foundation Scholarship and a Fulbright
Scholarship for MFA studies in Figurative Art at the
New York Academy of Art. During his time in New
York he actively started painting cityscape landscapes
that marked a turning point from figurative work to
landscape p.
Some Sample of Clive's Work