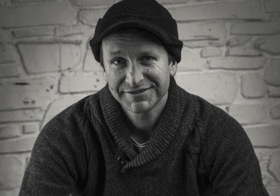 Michael Mc Swiney (b. Cork 1969) began his studies at the Crawford College of Art and Design. He graduated with an Honours Degree in Fine Art from the National College of Art and Design in 1991. For several years Michael travelled and worked in many countries such as Norway, India and Egypt. In the late nineties he returned to live in Ireland where he had several solo exhibitions and exhibited his work at An t`Oireachtas and Iontas, where he won the painting prize in 2000.
Since 2000 Michael has been based in Oslo, Norway where he has been regularly exhibiting his paintings and lecturing at the prestigious Einar Granum Art School.
He has been awarded grants from the Arts Council of Norway and the Norwegian Culture Department. His paintings are represented in both public and private collections in Australia, Norway and Ireland.
Michael and his family returned to live in Ireland in 2008. He now lives in Clonakilty, West Cork.
Mc Swiney portrays a world of abandoned, often threatening panoramas of land and sea. The influence of colour and atmospherics from living so close to the Atlantic Ocean are intertwined into his paintings.
These layered/textured sometimes `abstract expressionistic` images are inspired from memory of growing up in Cork Harbour and spending time on the sea.
The creative process is somewhat subconscious in that there is no pre-conceived image. The image is almost excavated from applying and removing paint to canvas until the image forms itself; a dialog between artist and materials.
A sense of elusiveness is central to these mood-orientated images, where through alienating colours and strong atmospheric effects, these paintings portray an unnerving picture of nature.
Symbolically significant materials such as tar, pigment and earth has been worked into the paintings.
Some Sample of Michaels Work